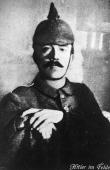 1915 January


January 1st
In 1915, the British battleship Formidable was sunk by a torpedo in the English Channel, killing 547.
January 2nd
In 1915, In World War I, the Turks under Ahmet Pasha were heavily defeated by the Russians at the battle of Sarik amis. After five days fighting and a lengthy retreat, the Turks lost 77,000 out of 95,000 men.
January 13th
In 1915, Avezzano, Italy: earthquake left 29,980 dead.
January 28th
In 1915, first US ship lost in WW I, William P Frye (carrying wheat to UK).
In 1915, the U.S. Coast Guard is officially named. Founded in 1790, it operated und er several names such as Life Saving & Revenue Cutter services.