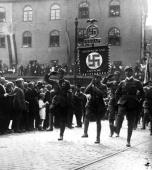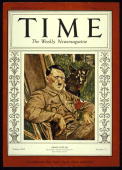 1933 March


March 2nd
In 1933, the most powerful earthquake in the last 180 years strikes Japan (8.9 on the Rich ter scale).
March 5th
In 1933, in German parliamentary elections, the Nazi Party won 44 percent of the vote, enabling it to join with the Nationalists to gain a slender majority in the Reichstag.
=In the March 5, 1933 elections, the National Socialist German Workers' Party won 43.9% and 288 of 647 seats in the Reichstag.
March 10th
In 1933, a huge 6.3 earthquake shook Long Beach (W.C. Fields was mak ing a movie when it struck & the cameras kept running); 117 people were killed. It was one of the quakes that Dr. Charles Richter studied in devising the "Richter Scale" of earthquake intensity.
March 14th
In 1933, Winston Churchill wants to boost air defense.
In 1933, Stalin attends at the Bolshoi Theatre the meeting of the C.C. and C.C.C., C.P.S,U.(B), the Central Executive Committee and Council of People's Commissars of the USSR, the Executive Committee of the Comintern and the Moscow Committee of the CPSU(B), held in commemoration of the fiftieth anniversary of the death of Karl Marx.
March 20th
In 1933, it is reported that political opponents of the Nazis are being sent to the newly opened Dachau, the first concentration camp built to relieve the bursting jails.
In 1933, Stalin writes an answer to the letter of Mr. Barnes.
March 21st
In 1933, The Malicious Practices Act of March 21, 1933, began the mass arrests of communists and socialists.
March 22nd
In 1933, Dauchau concentration camp was set up in a former powder milk plant, the first concentration camp built to relieve the bursting jails in Germany.
March 23rd
In 1933, the German Reichstag adopted the Enabling Act, which effectively granted Adolf Hitler dictatorial legislative powers.
March 24th
In 1933, forbid Sozialdemokratischen Partei Deutschland (SPD) and Kommunistischen Partei Deutschlands (KPD) in Germany.
March 27th
In 1933, Japan leaves League of Nations.
March 28th
In 1933, German Reichstage confers dictatorial powers to Adolph Hitler.
March 30th
In 1933, The greetings of J. V. Stalin, V. M. Molotov and K. Y. Voroshilov to the participants in the expedition sent to rescue the icebreaker Malygin arc published in Pravda, No. 88.