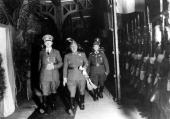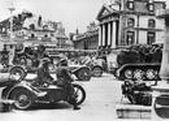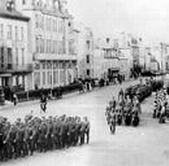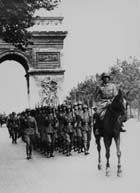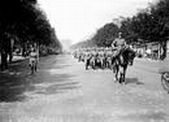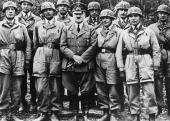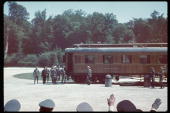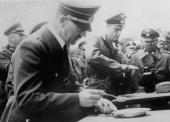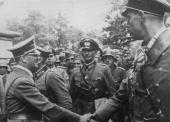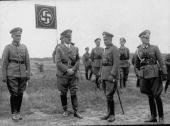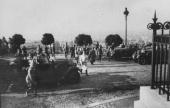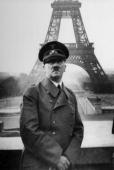 1940 June


June 4th
In 1940, British Prime Minister Winston Churchill told the House of Commons "We shall fight on the seas and oceans; we shall fight on t he landing grounds, we shall fight in the fields, and in the streets, we shall fight in the hills; we shall never surrender."
= British complete evacuation of Dunkerque.
In 1940, German forces enter Paris.
In 1940, the British complete miracle of Dunkirk by evacuating 340,000 troops.
In 1940, the Allied military evacuation from Dunkirk, France, ended.
June 5th
In 1940, the Battle of France began during World War II.
June 8th
In 1940, Allies leave Narvik.
June 9th
In 1940, Norway surrendered to the Nazis during World War II.
= Norwegian Army agrees to armistice.
June 10th
In 1940, during WWII, Italy declared war on France and Britain; the same day, Canada declared war on Italy.
June 11th
In 1940, Italy declares war on allies/raids Malta.
June 14th
In 1940, During WWII, France fell to Nazi Germany as German forces entered Paris; Vichy water loses popularity.
In 1940, in German-occupied Poland, the Nazis opened their concentration camp at Auschwitz, where an estimated three to four million people, many of them Jews, were exterminated as part of Adolf Hitler's "Final Solution"
June 15th
In 1940, France surrendered to Hitler.
In 1940, French Fort Verdun & Paris captured by Germans.
In 1940, Soviet Army occupies Lithuania.
June 17th
In 1940, France asked Germany for terms of surrender in World War II.
June 18th
In 1940, Gen Charles de Gaulle on BBC tells French to defy nazi occupiers.
In 1940, during World War II, British Prime Minister Winston Churchill urged his countrymen to comport themselves in a manner that would prompt future generations to say, "This was their finest hour."
June 22nd
In 1940, during World War II, Adolf Hitler gained a stunning victory as France was forced to sign an armistice eight days after German forces overran Paris.
= German-French armistice is signed (fighting ends June 25 after signature of Italo-French armistice June 24).
June 23rd
In 1940, Hitler tours Paris.
June 24th
In 1940, France signed an armistice with Italy during World War II.
June 28th
In 1940, Britain recognizes Gen. Charles de Gaulle as Free French leader.
June 30th
In 1940, 58 U-boats (284,000 ton) sunk this month.
Europe war